Being a Volunteer is Easy!
At RDA Singapore, we welcome volunteers both as groups and individuals, and we are always looking for new volunteers to help us with our horse-riding therapy sessions for those with disabilities.
No horse experience is required -- you'd be given on the job training plus, each quarter we conduct a volunteer training week.
We are always looking for hard-working, passionate, and energetic people to volunteer at the therapy sessions, barn work, and fundraising to keep our free therapeutic horse riding program serving our beneficiaries each day.
Click Here for our Volunteer Form
, complete it and send it to our volunteer coordinator, Ms Irene Ng at
volunteer@rdasingapore.org.sg
who will work with you regarding volunteering.
Please note all volunteers for
therapy sessions
start off as a side-walker. Basically, you will walk beside the horse to assist the rider and facilitate therapy activities. As such, you need to be comfortable working with a special needs person and being around horses.
Volunteer roles include but are not limited to:
Assisting in the therapy sessions as a side walker, horse leader or coordinator
Helping out with barn work like horse grooming, stable maintenance, grounds keeping and so on
Fundraising, marketing, events, photography, website up keeping, administrative work, videography, and the list really goes on!
Group Volunteering
RDA welcomes volunteer groups of all sizes to come in and work on not just fundraising and awareness projects but also facility improvement projects and clean up tasks which range from helping around the horse stable to clearing up our pasture, painting our fences, or even equipment building for games in the therapy sessions!
Please reach out to us to find out which opportunities are currently available. Volunteering your time time at RDA Singapore not only allows us to maintain and improve our facilities, but also serves as a great opportunity for your group to bond through the experience of teamwork, problem solving, and, of course, working on a fun project for a great cause!
If you would like to find out more about how your group/association can get involved or if you would like to begin planning a work day at RDA Singapore, please contact our office by calling 6250 0176 or sending us an email via mail@rdasingapore.org.sg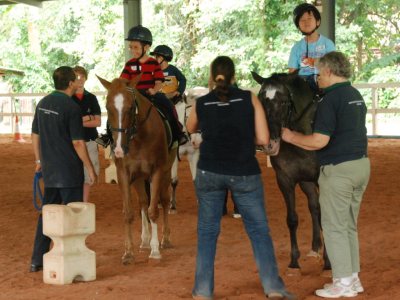 Wondering what to wear when volunteering?
For therapy sessions, the scene is: weather is generally warm in this tropical island, and you would be walking on a sandy surface with 400-600kg horses around. Ideally, wear long pants and boots--this also helps reduce the amount of arena sand stuck on you and your shoes, boots are the best protection if you get accidentally stepped on, and do support us by wearing an RDA shirt which you can purchase at the RDA office. Realistically, because of Singapore's weather, you could also wear short pants, but we would advise using sturdy shoes. Please avoid wearing tops that flap or dangling earrings.
If you are helping us with work around the stable yard, do not wear slippers into the stable area. For safety and comfort please wear boots or sturdy shoes. See you around the RDA Centre soon!